The Exceptional Chauffeurs of Carolina Limo & Coach
Story by: Carolina Limo Editor
July 31, 2023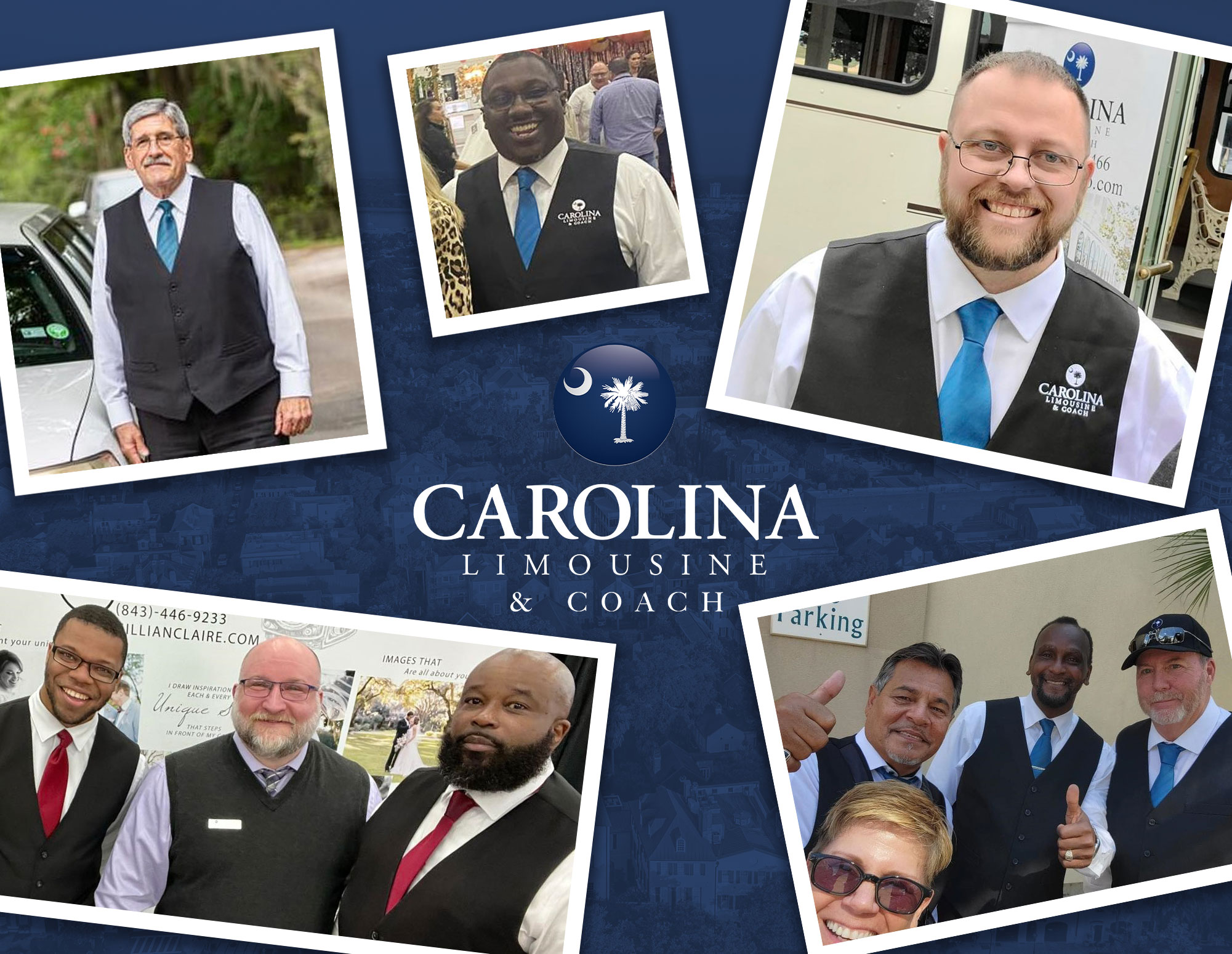 At Carolina Limousine & Coach, we don't mind singing the praises of our exceptional Chauffeurs. These hard-working transportation professionals are just that: Professionals. They take pride in their skills and experience, their safety records, and in the vehicles they drive. And they share a deep commitment to customer service that helps Carolina Limousine & Coach stand apart from our competitors in Charleston and Myrtle Beach SC. Let's take a closer look at what makes the Carolina Limo Chauffeur a "cut above."
Exceptional Chauffeurs: Safety and Confidence
At Carolina Limousine & Coach, Chauffeur excellence begins before they ever put on their vest and necktie. Each Chauffeur candidate is thoroughly vetted with a rigorous background check and drug screening. And each Chauffeur receives further training in customer service and etiquette.
Safety and Qualifications are always top priorities for Carolina Limo & Coach Chauffeurs. Each one is a highly skilled driver who can operate our vehicles safely in all types of conditions. And, whether they are operating downtown, at the airport, on the Interstates or on country roads, they are familiar and mindful of local traffic laws and regulations.
Your Carolina Limousine & Coach Chauffeur has earned either a Class-B or Class-C Commercial Driver's License (CDL) with a Passenger endorsement. These licenses and endorsements assure you that your Chauffeur is qualified to safely operate your vehicle, from our luxury Cadilac Escalades to our 56-passenger Motor Coaches and our custom-built Wedding Trolley. Be sure to check out our complete selection of vehicles – the newest in the business – on our Fleet page!
Exceptional Chauffeurs are Experienced Hosts
An exceptional Chauffeur can also be counted on to serve as an accommodating tour guide, entertainment director, and concierge. He or she has wide knowledge of the local scene, including the best routes to take and the most popular destinations to get you where you're going efficiently and safely. Your Chauffeur also has extensive experience satisfying a variety of customer groups, from raucous bachelor parties to more conservative corporate events.
Of course, part of that experience is gauging how much or how little your group wishes to interact with your Chauffeur. When called upon, your Carolina Limo & Coach Chauffeurs can spontaneously offer suggestions on dining and entertainment hot spots and not-spots, and always have a Plan B in their back pocket. They are experts at keeping the party going smoothly AND safely!
Always, the Carolina Limo & Coach Chauffeur is discreet and respectful of your privacy.
Experience Chauffeur Excellence
Your Carolina Limousine & Coach Chauffeur is highly trained, knowledgeable, customer-focused, friendly, accommodating, committed to safety, and passionate about the job they do. No mere "drivers," these professionals are our ambassadors, and we couldn't be prouder!
In Charleston and Myrtle Beach, count on your Carolina Limousine & Coach Chauffeur to provide an unforgettable customer service experience that only a true professional can deliver. Contact us to learn more or to schedule your event!