Experience Our Concierge-level Service!
Story by: Carolina Limo Editor
July 14, 2023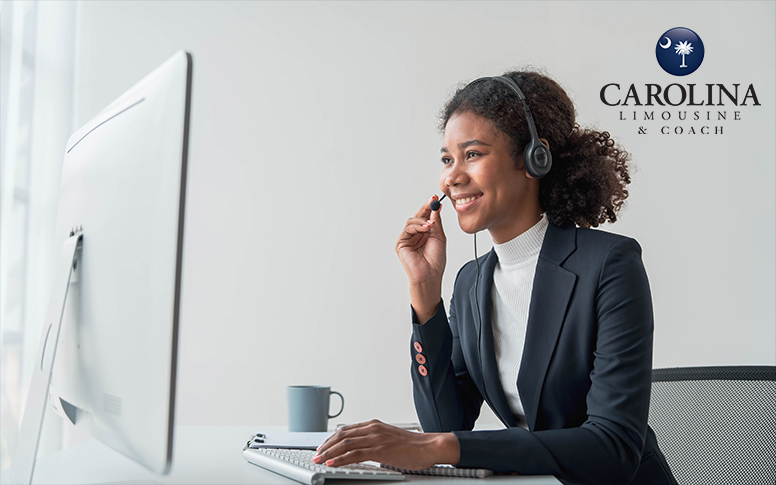 Your big event is coming up in Charleston SC, and you need chauffeured transportation. Whether it is an important business meeting, a night on the town, your bachelor or bachelorette party, or your upcoming wedding, a lot is riding on your next move.
When you pick up the phone or type that email, will you be simply filling out a form on some app? Might there be a person on the other end merely taking your order? Or will that call or email go to Carolina Limousine & Coach, where your reservationist is eager to take your ideas, build upon them, and deliver a package that makes your event truly unforgettable?
That is our concierge-level service commitment to you.
Your Concierge: A Wealth of Local Knowledge
When you hear the word 'concierge,' you may picture a sharp-dressed professional sitting behind a desk in a fancy hotel lobby. He or she has unlimited knowledge of the local leisure scene. Dining, shopping, or entertainment, they know it all and they use their knowledge and connections to make your stay satisfying and hassle-free.
Now, imagine that person making the reservations for your Charleston chauffeured transportation experience. That is exactly how concierge-level service works at Carolina Limousine and Coach.
Start the Conversation
Carolina Limousine & Coach does not merely process your order; we start a conversation. We ask more questions than any other chauffeured transport company in the business. Our knowledgeable, enthusiastic trip planners get to know you and your party. We build a more complete picture, offer suggestions, and use our vast local knowledge and network of connections to design a satisfying experience around your wish list.
Then, with our robust, state-of-the-art logistics technology, we capture and lock down every detail of your reservation.
A Human Touch No App can Match
At that point, our app-based competitors often let the automation take over. You go into their system, and you may not hear from them again until showtime. Carolina Limousine & Coach does it differently. We call four days ahead of time as a reminder and to get a verbal confirmation that the plans are still a go. We confirm all the details, and we introduce you to your chauffeur. Then, 24 hours before your date, another call goes out as a final reminder and confirmation. Finally, on the day of your event, you receive notice that your chauffeur is en route and when they have arrived at your location.
Is all this communication necessary? Carolina Limo & Coach thinks so. To us, it is all part of the process of making you feel comfortable and confident that your party is in good hands.
Concierge-level Service Makes a Difference!
As you can see, a whole lot goes on before the limo or coach ever pulls up your driveway. Your trip planner has gotten to know you, listened to your ideas, made solid suggestions, planned your event, and made all the arrangements. They have introduced you to your chauffeur and kept you in the loop at every turn.
But the service commitment doesn't end there – we merely pass the baton to your chauffeur. And that's a story for another day! If concierge-level service is something YOU desire in chauffeured transportation, contact Carolina Limousine and Coach at 843.294.5466 or info@carolinalimo.net and start the conversation!