Chauffeured Transport Options: Limo, Taxi, or Rideshare?
Story by: Carolina Limo Editor
August 12, 2023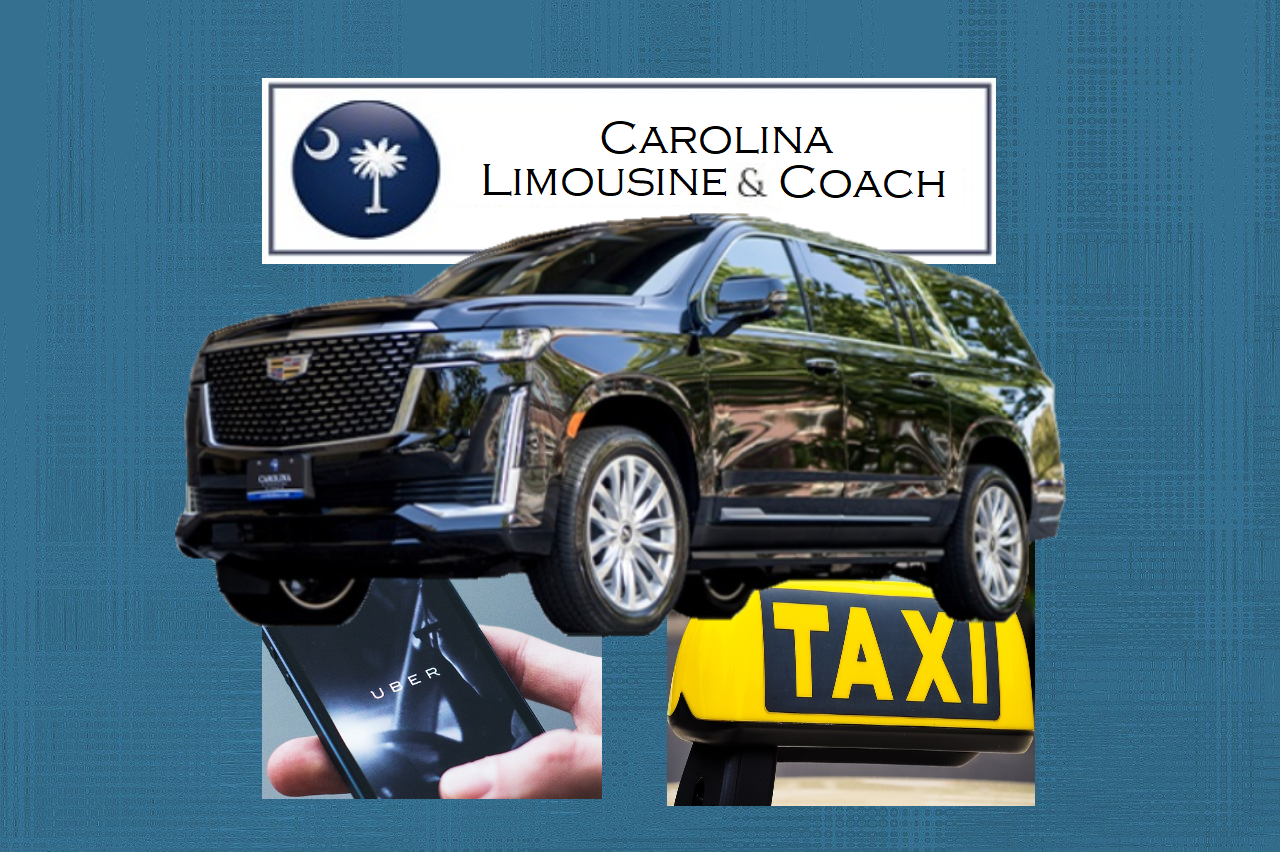 Carolina Limousine & Coach knows that you have several choices when it comes to chauffeured transport options. Limousine services, taxis, and rideshare apps are all popular forms of transportation, each with its own advantages and disadvantages. Let's compare these three modes of transportation to help you decide which one is right for you.
Limousine Service
Limousines are the most luxurious chauffeured transport option of the three. A limousine offers a high level of privacy and comfort, and it can accommodate large groups of people. Limousines are often used for special occasions, such as weddings or proms, and corporate events such as large group transfers, airport shuttles, and black car service.
One of the biggest advantages of limousine service is that you can book a car in advance and know exactly how much your ride will cost. This is not always the case with taxis or Uber, as the rates can fluctuate depending on demand. Limousine drivers, or Chauffeurs, are also typically more experienced and professional than taxi drivers, and they are often able to provide more personalized service. Chauffeurs undergo rigorous background checks and drug testing, as well.
However, with this level of luxury, privacy, and precision, limousine service is also the more costly option. Additionally, one typically does not "hail" a limo the way one would a taxi. A limousine is often a less spontaneous, more "plan-ahead" option.
Taxis
Taxis are typically a more affordable chauffeured transport option than limousines. They are also more readily available than limousines, and they can be hailed on the street or booked through a taxi app. Taxis are a good option for short trips or for getting around a city with which you are not familiar.
Taxis are also a good option if you are traveling with a few people, with whom you can split the cost. Taxi drivers are also typically familiar with the city, so they can help you get to your destination quickly and easily.
However, taxis can be unreliable. They may not always be available, and they can sometimes be difficult to hail. Additionally, taxi drivers are not always the most professional, and they may not be as accommodating as limousine drivers.
Rideshares
Rideshare or ride-hailing apps allow you to request a car from your smartphone. They are often used for short trips and can be more affordable than taxis – except during peak times when they can be more expensive. Additionally, Rideshare drivers are not always the most professional, and they may not be as accommodating as limousine drivers.
Which Chauffeured Transport Options are right for you?
The best mode of chauffeured transportation for you will depend on your specific needs and budget. If you are looking for an affordable option, then a taxi or rideshare are good choices.
However, you may be looking for a more luxurious and private experience, rather than just a quick and convenient "ride." A special occasion where you wish to arrive in style and make an entrance. Or, your requirements may be less festive and more professional, perhaps a handsome, all-business sedan or SUV that is sure to impress as you arrive precisely on time.
If so, then a limousine service is the best option.
In Charleston and Myrtle Beach, the premiere limousine service is Carolina Limousine & Coach. From our seamless trip-planning and scheduling process to our dazzling selection of luxurious late-model vehicles to the concierge-level service provided by our professional chauffeurs, Carolina Limo & Coach aims to deliver a chauffeured transportation experience like no other provider in the Carolinas.
So, for date night, girls' night, bachelor party, wedding, or business meeting, choose the limo service that is as eager to impress your guests as you are: Carolina Limousine & Coach. Contact us at 843.294.5466 or by email at info@carolinalimo.net.