Carolina Limo & Coach: Small Business of the Year! 
Story by: Carolina Limo Editor
April 26, 2023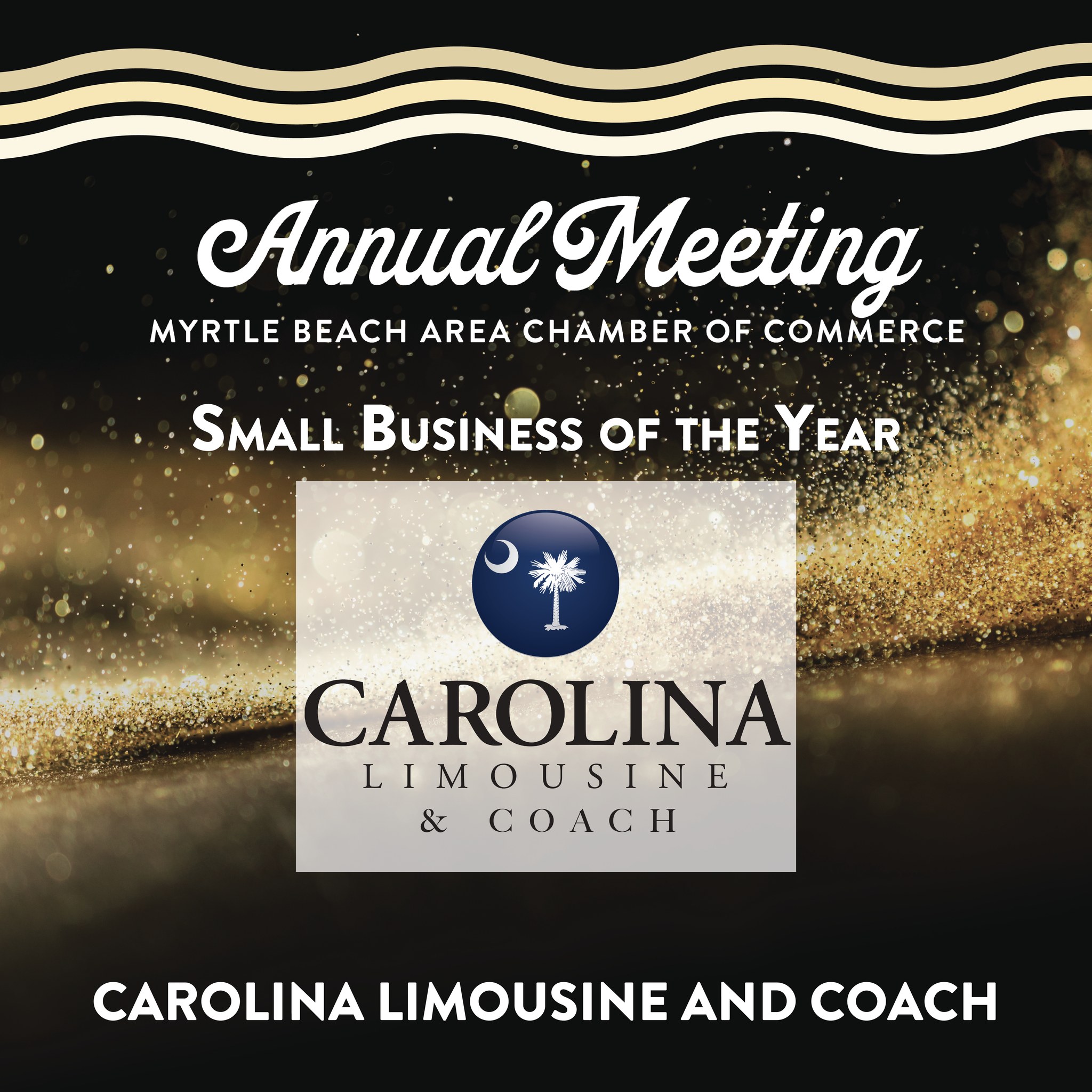 What does it take to be the Myrtle Beach Small Business of the Year? Whatever it is, Carolina Limousine & Coach has it!
This was the headline as the Myrtle Beach Area Chamber of Commerce announced the award at its annual meeting, held April 13, 2023 at the Marriott Resort & Spa at Grande Dunes.
How to Become Small Business of the Year
The Chamber of Commerce meeting, celebrating 85 years of service to the Grand Strand, aimed to "highlight the success of the past year, look to the next year, and present awards to some very deserving chamber investor companies and outstanding individuals in our community."
And Carolina Limousine & Coach was one of those "very deserving" small businesses – number one, in fact – whose products, services, and community involvement reflect the Chamber's mission of "promoting and protecting a positive and vital economy and improving those unique qualities which are good for tourism and business."
Hometown Pride
For Joe Reinhardt, founder and CEO of Carolina Limo & Coach, the evening felt like a bit of a homecoming. "Carolina Limo has grown and enjoyed great success in Wilmington and Charleston, but it all began right here in Myrtle Beach. From a single stretch limo we grew to become the number one chauffeured transportation company in a town that takes hospitality very seriously."
What was the secret to Carolina Limo's success? Superior logistics, an impeccably vetted and trained staff of chauffeurs, and an unmatched fleet of modern limos and coaches certainly played their part. But Reinhardt credits something more fundamental – his company's service ethic.
Superior Service and the Small Business of the Year
"I have said it before, but it all comes down to what we call our Duty of Care," Reinhardt explains. "It's a desire on the part of the management, planners, and chauffeurs to get it right, to sweat the details, and be accountable for our actions. Success in a hospitality mecca like Myrtle Beach demands this type of service commitment, and Carolina Limo & Coach delivers it every day."
In Myrtle Beach, Charleston or Wilmington, for business or pleasure, make your next chauffeured affair one to remember. Visit CarolinaLimo.com to learn more!